WELCOME TO THE LARGEST MARKETING IDEAS LIBRARY IN THE WORLD! IT'S THE ULTIMATE "CHEAT SHEET" FOR BUSINESS OWNERS AND MANAGERS!
Think for a moment the many times in your business life that you've thought "gee, if only I knew where to get the answer to that problem? Or maybe you've thought 'if only I could wiggle my nose like Samantha from the Bewitched TV show and instantly come up with a winning marketing idea to boost sales!"

We've all had that mind-block from time to time and experienced the frustration of not being able to think of a way to boost sales and attract new clients – it's only human to go through such experiences.

But the great news for you is that this problem can disappear instantly when you become a member of Wow Central - no matter what business you're in.

Why?

Because you're going to have access to a vault of the most powerful, amazing, proven marketing concepts on the planet!

And these client attraction ideas and systems can work across multitudes of industries.

So these resources are invaluable, whether you are a butcher, baker or candlestick maker!

The opportunity that awaits you cannot be overstated.

We're talking about you getting the "Keys to the Kingdom" – a bank of brilliant marketing ideas, plans, layouts, advertising scripts, website designs, direct mail templates, press ads, interviews and reports that businesses have paid millions of dollars to JD for – all yours to "swipe and deploy" for a ridiculously low annual investment.

It doesn't matter whether you're B to B (business to business) or B to C (business to consumer), this is the Holy Grail of proven sales stimulating ideas you've been searching for.

Make no mistake, this is the most comprehensive Swipe File of "client attraction concepts" anywhere in the world – and the fact that it's online means you have the privilege of being able to "swipe" anything 24/7.

THE VALUE IS ABSOLUTELY INSANE!
Imagine sitting at your desk or for that matter, anywhere – and being able to find one or more solutions to your marketing challenges at any time, day or night.
Let's say that sales are low and you need to somehow miraculously create 'instant clients'.
Easy……. as a Wow Central member, you simply log into the website and surf around the massive library of resources, find one or two concepts that suit your purposes – swipe them and put them into action!
No need to do any long university course, no need to organise a meeting with some ''so-called" advertising expert who says he or she will meet you in two weeks' time.
As a member of Wow Central, you have instant access to JD's phenomenal powderkeg of marketing resources. Remember, this library of JD's ideas and executions contains the most remarkable 'client attraction concepts' ever devised.
Perhaps you think that this description is a bit "hypo."
But we can assure you, after 10 minutes inside this "ideas vault," you'll be thanking yourself for making one of the best decisions in your business life!
Further down on this page, you're able to enjoy a "sneak–peak" of the type of content you'll have access to as a member of Wow Central.
We've revealed a few case-studies of JD's marketing magic, so that you get a taste of the incredible promotional templates you'll be able to access and swipe when you get inside this vault of marketing ideas!
If you're not convinced yet that this membership opportunity is a "must-do" action, you will be after you see these examples of JD's ingenuity!

WANT AN AVALANCHE RESPONSE?
JD is a pioneer of "avalanche direct response" marketing campaigns, both online and offline.
The marriage of "creativity and practicality" is what makes his marketing campaigns so electrifying………… and so successful.
There are plenty of people who have creative ideas, but unfortunately the concepts are not "practical" and deliver little value.
The opposite is true of JD's marketing concepts – they are clever, often cutting-edge and always "practical".
His marketing campaigns have one objective – and that is to deliver more clients or more customers for the businesses which engage his services.
JD'S IDEAS HAVE CREATED NEW CLIENTS FOR TONS OF BUSINESS-TYPES!
The likes of News Ltd, 7 Eleven, Westfield Shoppingtowns, major television networks and McDonalds have paid a fortune to JD for such unique sales ideas – and now you have the chance to enjoy access to this extraordinary library – at your fingertips 24 hours a day.
It doesn't matter what industry you're in membership of Wow Central is going to be one of the best decisions of your business career.
JD has produced winning marketing campaigns for just about every business you could possibly think of.
Here's just a few……..and believe us, this list is "just a few!":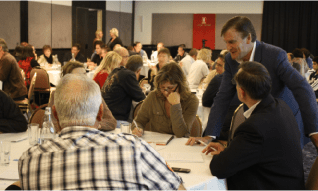 Air Conditioning
Plumming
Accountance
Landscapers
Kitchen Renovators
Bedding
Shopping Centres
Building
Car Rentals
Fast Food
Retail
Carpet Cleaning
Brewery
IT
Gymnasium
Nursing Homes
Real Estate
Agriculture
Music Teaching
Insurance
Pest Control
Mechanics
Dog Grooming
Electrical Services
Newspapers
Radio & TV Networks
Manufacturing
Hotel and Restraunts
Photography
Travel Industry
Wineries
Banks
Turf Farms
Tree Surgery
Theme Parks
Go Kart Tracks
Wedding Videography
Seminars & Conventions
Petrol Stations
Nurseries
Scuba Diving
Personal Training
Guttering
Food Suppliers
If we included all of the business-types that The Institute Of Wow has provided marketing concepts to, this webpage would scroll for miles.

The above list is merely some examples so that you can appreciate that JD's marketing templates are applicable across just about all business-types.

Make sure you don't fall into the trap of saying "oh, but that wouldn't work for my business, because I'm different".

You will gain extraordinary benefits from being a member of Wow Central if you have a mindset of appreciating there are multitudes of marketing ideas outside your industry which can be adjusted to suit your purpose.

Nonetheless, given the massive wealth of marketing content inside Wow Central, you're likely to discover fantastic ideas that have already been proven sucessful in your particular industry.

Either way, you win.

YOUR CHANCE TO HAVE A SECRET WEAPON!
THIS GUY'S FORMULA HAS BEEN RESPONSIBLE FOR GENERATING OVER $15 BILLION IN EXTRA SALES ACROSS 50+ INDUSTRIES!
Think about this for a moment.

Regardless of what business-type you are, chances are you're in a "sea of sameness".

Here's an opportunity to tap into the brain (and files!) of one of the world's leading experts when it comes to attracting more clients.

His track-record is mind-blowing – his "client attraction system" has generated more than $15 BILLION in extra sales for businesses he has helped!

Now that's "WOW!"

In other words, your products and services are much the same as your competitors and you don't really have any "unique selling propositions". You're constantly trying to think of ways to steal market share and unfortunately you keep on having to lose margain by going down the "price discounting path".

You know that dropping your prices is a bad strategy, because for most of us, it's simply not sustainable.

Well guess what?

The stress of not having an alternative to "price discounting" can disappear instantly by joining Wow Central – and therefore having access to a bank of winning "client attraction" marketing ideas.

Imagine the "peace of mind" of having this "secret weapon" available to you 24/7..

For the very moderate membership investment, you'll have an invaluable resource that will give you a constant leg-up on your competitors.

Don't pass up this opportunity to have such "a competitive edge" in your industry.

Enjoy the convenience of being able to pop into the world's largest online 'marketing ideas bank' and make your withdrawal whenever you want! In his first year, such promotional alliances helped John to increase sales of the NRL Rugby League cards from $2 million to $12 million - an incredible result!

There's one word to describe the value of this opportunity - priceless!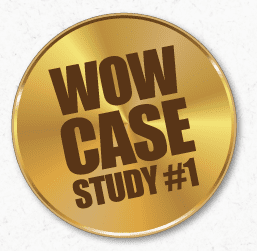 BUTCHER'S SALES SKYROCKET FROM $3 MILLION TO OVER $4 MILLION BECAUSE OF FUEL DISCOUNT OFFER!
Wiggly Tail Butchery has 3 outlets in a regional country town in NSW, Australia.

Owner, Kerry Buttsworth, has been battling the big supermarket chains for the past 20 years, as his stores are within a stone's throw of a major supermarket.

In other words, Kerry's butcheries are smack outside a 40 ton gorilla!

His only promotional option for the past 20 years has been to "discount his prices" – as the big supermarket chains, Woolworths and Coles, marketed meat for very keen prices and Kerry undertsandably felt he needed to match or beat them in this regard.

Then along came JD with a marketing concept which is probably the most powerful retail stimulant ever devised – "a fuel discount program" that only costs the retailer 5% to 10% of the sale price.

Called Fuel For Less, it involves consumers getting 10 cents per litre fuel discount for every $50 they spend with the business.

So if someone's expenditure reaches $100, they can enjoy 20 cents per litre fuel discount.

If they spend $150, they get 30 cents per litre fuel discount – and so on.

They don't have to spend these amounts all at once - their expenditure can be accumulated over time.

This wow concept has proven to be a "game-changer" for Wiggly Tail Butchery, with annual sales exploding from $3 Million to over $4 Million!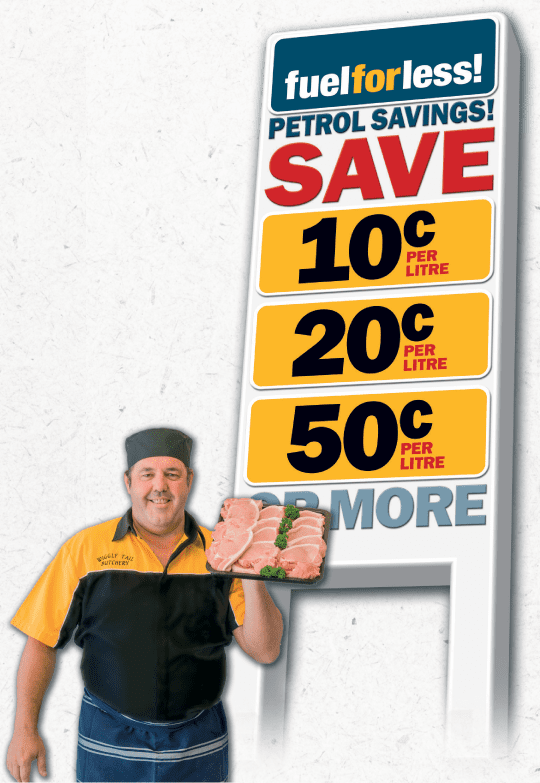 Owner, Kerry Buttsworth, letterbox distributed thousands of Fuel For Less Membership Cards to launch the promotional program.

This instantly netted him a massive amount of new customers who were happy to swap from their existing meat supplier (other butchers or the supermarkets) to Wiggly Tail because of this fabulous bonus offer.

Wiggly Tail is a regular advertiser on the local radio and TV stations – and used the templated scripts from JD to create more noise about this incredble fuel discount incentive.

Wiggly Tail's television campaign featured customer
endorsements, a very powerful technique.
Additionally, each of the three Wiggly Tail Butcheries distributed Fuel For Less Membership Cards from the shops - and "point-of-sale material" at each store ensured that no-one could possibly visit without knowing about the fuel discount program!

JD's "Fuel For Less Program" is a fully templated marketing system and each Membership Card individually identitfies the member via a barcode.

When the shopper buys merchandise at the store, the card is scanned via an iPad and that person's expenditure is automatically credited to their Fuel For Less account.

Shoppers can get their fuel from any fuel station – and simply keep their fuel reciept and bring it back to any of the Wiggly Tail stores for their instant cash rebate (limit of 50 litres per claim).

When a shopper makes a claim, their Membership Card is scanned to determine their account balance – and for every increment of $50 in their account, they're entitled to 10 cents per litre fuel rebate.

It's that simple – and that's why it has delivered an extra $1 Million in sales to Wiggly Tail Butchery!

Keep in mind that 10 cents x 50 litres = $5.

This $5 rebate is equivalent to just 10% of the $50 that is spent instore.

That's the brilliant, ingenius part of this loyalty program – the cost to the retailer is a maximum of just 10% of the sale.

And Kerry Buttsworth explains "the fantastic thing is that when I hand over the $10 or $20 cash rebate to a customer, most of the time they hand it straight back to me and buy more meat!

So this means my cost ends up being closer to 5% of my sale! This is one of the cleverist lead generation and loyalty concepts I have ever seen – and I can assure you, I'm not going to be stopping it anytime soon!"

Watch Kerry's explanation of the program and see how he has enjoyed an extra million dollars in revenue!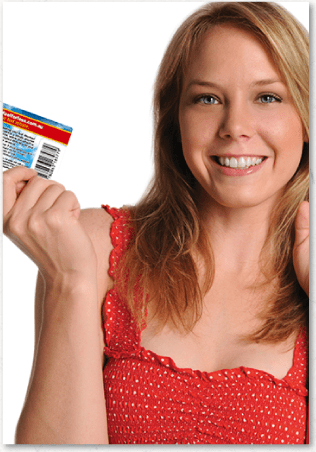 "Staggering" is the word that Kerry Buttsworth uses when describing the success of this remarkable client attraction concept.

In just the first 12 months of running the fuel discount program, Wiggly Tail's turnover increased from $3 Million to over $4 Million!

But it gets even better.

Because the Fuel For Less Program has an inbuilt CRM system, Kerry has been able to collect over 10,000 names and contact details of customers.

And he now uses the Fuel For Less "automated email and SMS system" to send promotional messages to this database on a regular basis.

And unlike many email blasts these days, he enjoys a massive "open-rate" because he is continually giving "good news" to the consumers (their Fuel For Less account balance and their current fuel rebate entitlement!).

Lesson learnt?

If you want your emails to be opened, give a benefit or good news!

Kerry says "I've never seen anything like this in my business lifetime, this program has taken my customers' eyes completely off the price and therefore I've been able to even increase my prices would you believe! Because I've been able to gain the exclusive license from The Institute Of Wow for my postcode, no other butcher can match me, so I'm laughing all the way to the bank!"

The recording of customer expenditure at store level is so easy – all done in seconds.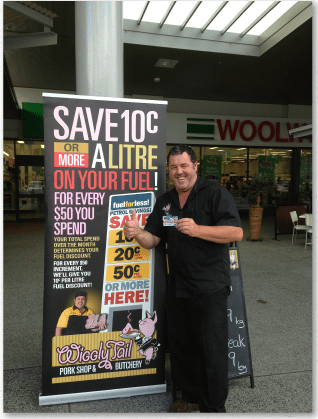 Kerry says "it's payback time", referring to his fuel discount program blitzing the offer from Woolworths and Coles!
TURF FARM SELLS GRASS LIKE NEVER BEFORE - BECAUSE OF "FREE BEER!"​
JD was asked by Australian Lawn Concepts, one of Australia's larger turf farms, to assist in marketing an oversupply in turf.

ALC is located at the base of Mt Tambourine on the Gold Coast in Queensland.

After spending time with the owner, JD was able to deduce that the major target audience for the turf product was Landscapers - as unlike home owners, they purchase turf for numerous homes at a time.

JD produced an innovative Direct Mail Campaign which featured an offer "too good to refuse" to most thirsty male landscapers!

For every purchase of 500 square metres of turf (about one regular home's worth), the landscaper would receive a free carton of premium Crown Lager beer!

JD explains "given the capacity of landscapers to order volume turf, we needed to provide them with an incentive which rewarded them personally. And then we needed to link the giveaway with a particular volume of turf, so that we would stimulate repeat purchasing and ongoing loyalty".

The Direct Mail Campaign was due to be mailed to 500 landscapers in the region, but after sending 250 of the mailers out, guess what?

ALC Turf Farm ran out of turf!!

Owner, John Kelleher, says "it was just remarkable and I'm now certainly a fulltime devotee of the power of wow!

I've never seen anything like it, JD's concepts are pure marketing genius!"

The turf farm enjoyed a massive 40% increase in sales in just weeks!

You'll see from the video featuring ALC owner, John Kelleher, the turf farm had to actually source grass from competitors to keep up with the crazy demand from thirsty landscapers!

Think about this for a moment. This would be like Burger King having to source handburgers from McDonalds to keep up with an avalanche demand because of a promotion offer!

Crazy stuff indeed!

JD says "It was like taking candy from a baby! Landscapers were happy to provide their loyalty in return for the premium beer! In other words, we had developed a Happy Meal toy for tradesmen!"

As JD often says, many of the most successful sales promotions are campaigns where the "value-add" is a wow factor that's completely unrelated to the product or service that's being sold!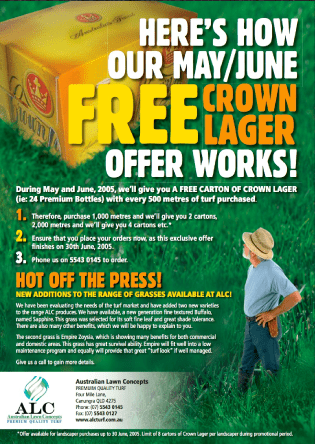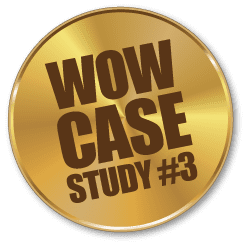 FREE HOLIDAY OFFER TRIPLES SALES FOR BANK!​
Greater Building Society -
"Get A Home Loan And Get A Free Holiday!"
The Greater Building Society, one of Australia's Top 500 privately owned companies, is in a very competitive financial services market. In an industry where a large degree of "sameness" is prevalent, the Building Society needed to distinguish its Home Loan product from that of its competitors.

Nearly every Bank, Credit Union and Building Society used a "12 month discount honeymoon rate" as their major acquisition tool and up till when JD came along, the Greater Building Society was no different.

JD devised an acquisition promotion that was absolutely unique to the industry and packed an extraordinary "wow factor punch". The concept was very simple. Offer consumers a unique benefit that cannot easily or quickly be duplicated by competitors. In April 2001, the concept was born, heralding the start of the Greater's "Get a home loan, get a free holiday" offer.

In conjunction with a travel wholesaler, The Greater provided a free holiday to consumers who gained a home loan with the Society. Consumers received reward points on a pro-rata basis proportionate to their home loan and then simply redeemed these points for holidays, which were detailed in a special Holiday Directory (e.g. Someone who gained a $200,000 home loan, may have enjoyed 5 night's holiday in Queensland, someone who borrowed $300,000 may have enjoyed a week's holiday in Fiji.).

The acquisition tool of the Free Holiday was so successful in its "test period", the offer became a product, very similar to the McDonald's Happy Meal phenomenon. (The McDonald's promotion was so successful that the Happy Meal turned into a fulltime product offering!).

The result of this unique customer acquisition concept took many by surprise. The building society's Home Loans quickly doubled and as a result, the Home Loan/Free Holiday offer became an ongoing product category. Within 2 years, the Society's loans had tripled!

Aside from new homeowners, the offer was so appealing that re-financing became a large component of the society's overall loans. After all, why stay with a Bank that charges high fees and gives you nothing, when you could swap your home loan to the Greater Building Society and get an absolutely free holiday?

The concept was launched via heavy television advertising and when the offer reached its 6-month mark, "Customer Testimonials" became an integral part of the communication tactics. After all, there is nothing stronger than a satisfied customer saying "we swapped our home loan from the bank to the Greater, where we enjoyed paying no fees and we got a free holiday!"

The offer ran continually since April 2001 and for 9 years in a row, the society never advertised an interest rate! Imagine being able to NEVER market your product on "price!"

JD's mantra is that "price promotion" should be avoided at all costs. The idea is to take the clients' eyes OFF the price!

After all, as a business owner or manager, you WANT TO MAINTAIN your profit margain!

This "FREE HOLIDAY" marketing concept was "wow factor marketing" on steroids.

Its success became folklore in the Australian banking industry!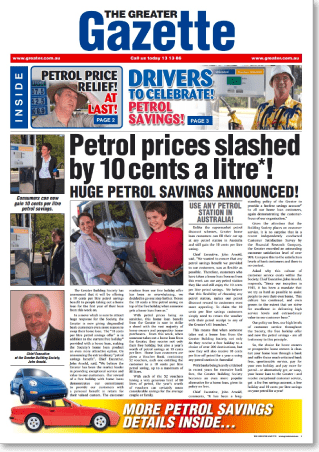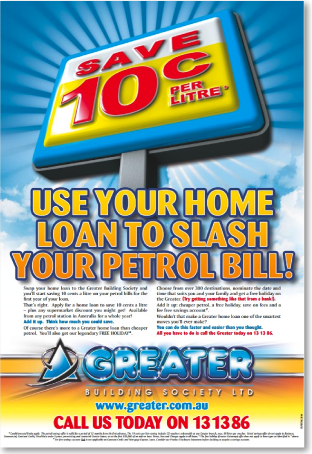 And after 3½ years of free holidays, JD added more "wow factor" to the Building Society's home loan offer!
With interest rates rising in late 2003 / early 2004, the Australian home loan market understandably "settled" in comparison to the previous three or four years. (Keeping in mind that the Greater's increase in home loans throughout the boom period, was about double the "industry standard" due to the free holiday offer!) Given the increase in interest rates and market conditions, JD once again convinced the society to "push the envelope" and create an additional "wow factor" to its home loan offer.

So, in October 2004, the building society introduced an additional benefit to new home loan customers, being "10 cents per litre savings on petrol!" JD recognised that like "free holidays", savings on fuel is something that all demogaphics would be interested in. One can always have too many televisions, CD players or microwave ovens - "but one can never get enough free holidays or petrol savings" in JD's opinion.

This Home Loan "Value-Add incentive" launched via an exciting advertising campaign, comprising of television, radio, press and direct mail. When consumers got a home loan through the building society from that point, they not only received a free holiday, but now 10 cents per litre savings on their fuel every week for a whole year. And unlike the supermarket petrol discount schemes, where consumers were forced to use specific petrol outlets, the Greater's offer allowed consumers to use any petrol station in Australia!

This of course was a huge bonus, as it meant consumers had a massive choice.

Furthermore, JD ensured that the Greater's advertising highlighted the fact that its "10 cents per litre savings" was additional to any supermarket discount one might use. In other words, a Greater home loan customer could use the 4 cents per litre supermarket discount together with the Greater's 10 cents per litre savings and make a total savings of 14 cents per litre per week for a year!

The Greater simply provided consumers with a voucher book which contained savings coupons for each week of the year. Consumers simply presented the voucher together with a fuel receipt to their local building society branch and received the relevant rebate. (Each claim maximum of 80 litres x 10c)
Comparison with Banks used as a marketing tool
Given that research had shown JD and the building society that the largest potential source of home loan acquisitions was from banks, it was important that this campaign further distinguished the building society from banks. Over previous years, the major banks had copped a considerable amount of bad press regarding their closure of branches and poor customer service. (Not to mention the massive bad publicity the banks received for their bank fees!!)

Therefore, JD ensured that a major component of the "free holiday / petrol savings" home loan campaign was a comparison with banks. One example of this was the split screen television commercial which showed a Greater customer filling up his car with petrol, enjoying petrol savings, free holiday and no fees - versus a bank home loan customer with bank, who pays full price for his petrol, pays for his own holidays and puts up with bank fees.

When such advertising hits the TV screen, it certainly not only jolted viewers with its "wow ingredients", but it also clearly distinguished the building society's offer against the banks' offers.
Radio Station Petrol Promotions for Launch
During the launch of the "petrol incentive" in October 2004, JD organised with numerous radio stations, an exciting petrol promotion which provided further publicity to the Greater's home loan offer. Radio stations simply gave away "10 cents per litre petrol savings for a quarter of a year" to listeners who phoned in response to the radio contest. The Greater produced special Promotional Petrol Voucher books for the radio promotions and provided these as prizes, in return for the massive publicity generated by each station.

When one promotes such an extraordinary home loan offer in such an entrepreneurial fashion, its "wow" upon "wow" upon "wow"!

No wonder this campaign sent home loan sales through the roof!

JD continues to highlight "whoever said a financial institution has to be marketed in a boring and conservative way? After all, any bank or building society is in the business of delivering dreams to people through financing things like motorcars and homes. These are exciting, aspirational things for most people, so why not promote the finance component in an exciting and fun way?"

With the Greater Building Society being one of the fastest growing financial institutions in Australia, JD's philosophy paid huge dividends!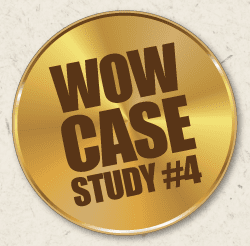 "MILLION DOLLAR SWEEPSTAKES" CONCEPT SELLS TRUCKLOADS OF MADURA TEA!
This 2011 marketing promotion took supermarket shoppers by storm!

Madura Tea is an Australian producer of high quality tea, with its products being widely available through the likes of Woolworths, Coles, Bi-Lo and others. Because it is a relatively small player in the Australian tea industry (Twinings and Dilmah are market leaders), the company wanted to get serious about building their brand name in the marketplace.

JD provided his expertise with both a short and long-term marketing strategy that would sell tea like crazy and build the brand's awareness.

Although having a relatively modest budget, JD was able to devise an innovative Cash Giveaway Promotion involving an Insured $1 Million Prize.

(JD can secure a $1 Million booty for about $16,000! Betcha that got your attention! When you become a Wow Central member, you can go to the Q&A Forum and ask him "how?")

The promotion ran for 4 months and was supported by a daytime TV campaign in regional areas along the east coast of Australia.

If you look at the TV advertisement below, you'll see that it combined brand-building testimonial comments from customers together with the Chance To Win $1 Million incentive.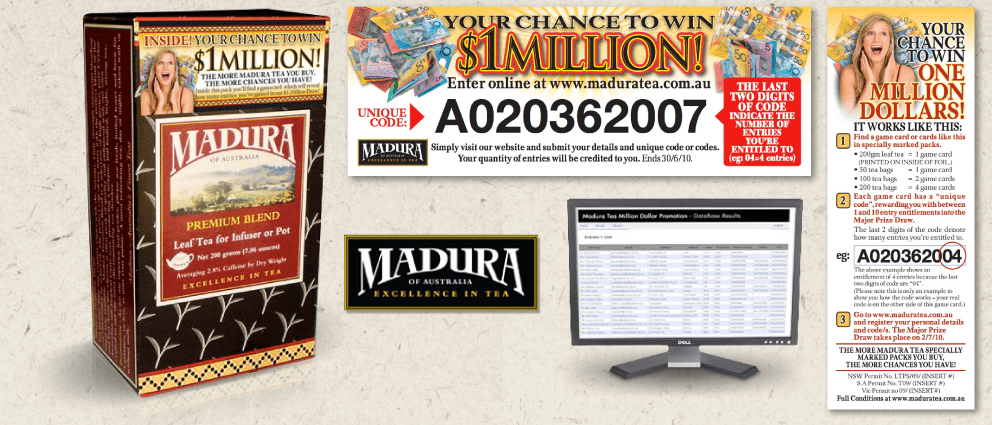 Stunning Results - Instantly!
This turned out to be a magic "combo", with sales instantly exploding in all areas where the TV campaign screened.

We're talking about a 31% sales increase in weeks!

Instead of the conventional "1 entry per pack" mechanism, JD pushed the envelope and gave consumers a "lucky dip" sensation - where they could gain between 1 and 10 instant entries from each pack.

It was this "wow X-factor" that catapulted tea sales to a new level!

Inside each of the specially marked Madura Tea packs, a Game Card could be found with 10 digits being printed on it.

Consumers enjoyed "instant gratification" because upon checking their Game Card, they invariably came up with 7, 8 or 9 entries into the Million Dollar Draw!

By having such random distribution of the "quantity of entries" message, Madura Tea enjoyed repetitive sales that arguably they would not have experienced if the promotion ran "the normal way of 1 purchase and 1 entry."

JD comments "far too often I see products being marketed with a large prize, but with no wow factor. By creating a lucky-dip formula in terms of the number of entries in each pack, we instantly gained extra consumer interest because of the thrill of the chase!"

JD goes onto explain "remember the anticipation as a child, when you would be on the edge of your seat when opening the Kellogg's cereal pack, anticipating which toy you might get?

Or likewise, the same thrill you got with a pack of footy or baseball trading cards?

Well the same principle applies with sweepstakes. Why not build in yet another device to stimulate repetitive purchasing?"

SO LET'S JUST SNAPSHOT THE RESULTS:
If you're not convinced by now that the very moderate investment in joining Wow Central IS THE BEST BUSINESS INVESTMENT YOU'LL EVER MAKE, you should check your pulse! These "case-study" snapshots give you just a tiny taste of the plethora of marketing ideas available to swipe when you come onboard!