THE MARKETING WIZARD WHO JERRY SEINFELD TRUSTS WITH HIS BRAND!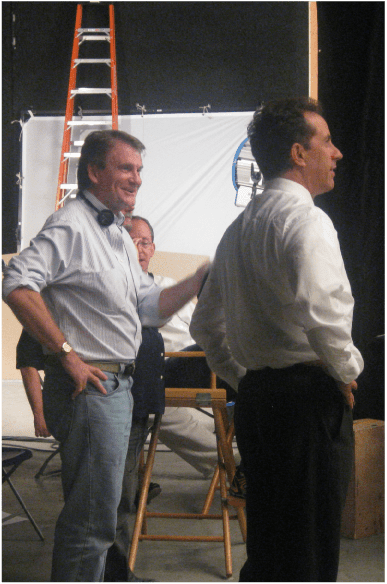 John Dwyer (known as "JD" by most of his clients and colleagues) is a marketing enigma. He's also the guy who superstar, Jerry Seinfeld, trusts with his personal brand. Now THAT's a pretty strong recommendation.
When it comes to creating increased sales for businesses of all sizes, his "wow factor marketing thinking" is refreshingly unconventional – AND HIS "CLIENT ATTRACTION SYSTEM" GETS RESULTS!

Thank goodness for such "fresh thinking".

(Because there are way too many so-called marketing experts out there who simply pedal the same old "Marketing 101" philosophies – which most fail miserably.)

John preaches "In a sea of sameness in your industry, you need to stand out like a beacon – and the best way to do this is by using Wow Factor Marketing techniques that are direct-response driven."

John thinks "way outside the square" and brings proven Wow Factor direct-response ideas to the table for business owners and managers – not the "motherhood
HOW DO YOU GET YOUR MESSAGE
THROUGH THE CLUTTER?
The world of communications has dramatically changed, with consumers being bombarded by over 3,000 different marketing messages every day!

A combination of offline and online advertising messages flash in front of most of us every waking hour.

But guess what? We ignore 99% of them.

JD says "They are invisible to us because they're lame, boring and lack the necessary ingredients to capture our attention."

John preaches that you need to become the "UN" of your industry UNlike any of your competitors.

He often quotes "Richard Branson has exactly the same planes as all of the other major airlines, but he was able to position himself as the "UN" of the industry and therefore steal market share from his boring competitors. He is UNlike anyone else."

After all, if you don't have a "product advantage" (like Apple for example) and don't have "a systems advantage" (like McDonalds), you need to develop a "marketing advantage" (like Virgin Airlines).
At Wow Central, you're going to be able to access John's Wow Factor Wizardry 24 hours a day, 7 days a week.

He has opened his gigantic vault of marketing ideas and executions, allowing business owners and managers to swipe the very best of his marketing ideas and use them for their own business.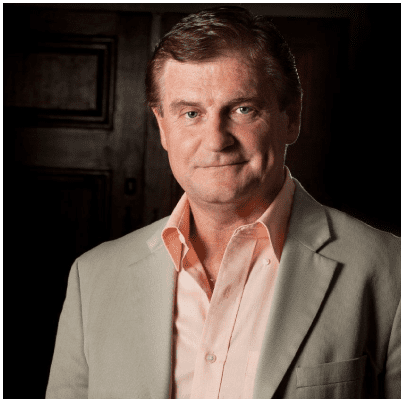 EVEN JERRY SEINFELD RECOGNISES
JD'S UNIQUE SKILLS!
And let's not forget that JD is the guy who convinced superstar, Jerry Seinfeld, to come out of retirement and act as spokesman for the Greater Building Society, a small Australian regional bank! When you join "Wow Central," you'll be able to get all the inside knowledge of how to pull off such marketing coups yourself! Maybe Jerry Seinfeld is too large a target for your business – but when you hang around JD's environment, don't be surprised if you start "thinking BIG!"
JD'S WHEEL OF WOW CLIENT
ATTRACTION SYSTEM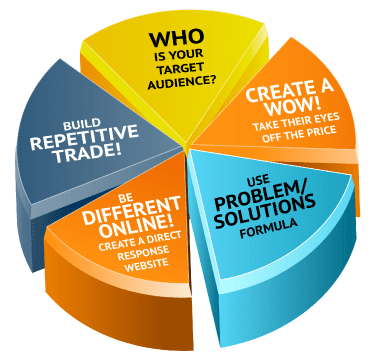 As a result of being in the marketing game for 3 decades, JD has tried and tested a gazillion advertising and promotional campaigns across scores of industries.

In fact, he has consulted to over 27,000 businesses and his Wow Marketing Formula has helped generate $15 Billion in extra sales for his clients!

And when you design and manage as many marketing campaigns as JD has, one gets to see "a trend."

JD has condensed his learnings into an easy-to-follow "system" that you will benefit from, when you become a member of Wow Central.
IT'S CALLED THE "WHEEL OF WOW" AND HAS
5 "DIRECT-RESPONSE" COMPONENTS:
Identifying "who" is your target audience. (Research)
How to create a Wow and take their eyes off the price.
Use the "problem/solution" formula.
Fix your website and include "direct-response" components.
Build "repetitive trade" and get them coming back for more!
John quotes that "95% of business don't use any of these direct response tactics."
And the reason is because most business owners simply follow their competitors when it comes to marketing…………..and everyone therefore lives in the "sea of sameness."
When you join Wow Central, you'll get the benefit of being able to "swipe" ideas and executions that follow JD's "Wheel Of Wow principle," helping ensure that your marketing messages break through the clutter.
Incidentally, if you would like to invest John's "Client Attraction Phenomena Program," which includes all the finite details of his proprietary Wheel Of Wow Marketing System, simply click here. You'll also see details of his online Wow Manifesto.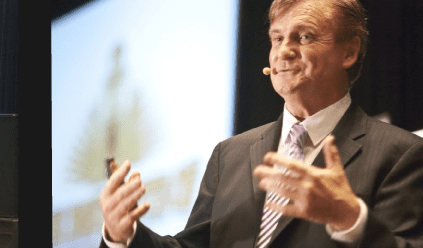 SO WHAT'S JOHN'S BACKGROUND?
Born and raised in Sydney, Australia, John attended De La Salle Catholic schools, followed by gaining his Advertising and Marketing degrees in the years thereafter.

After spending some years in the marketing arena with the giant Grace Bros retailer at Roselands Shopping Centre in Sydney, John was offered the role of National Marketing Manager in the Woolworths company whilst still in his twenties.

During his time with both retail giants, he showcased his unique talents via many "value-add" marketing concepts, many resulting in avalanche consumer response and record sales figures..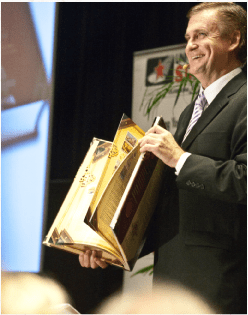 HIS OWN AGENCY - DYNAMIC IDEAS!
The next step for John was establishing his own Advertising/Marketing Agency in Sydney, appropriately called Dynamic Ideas. It is during this time that John really "honed" his skills with "wow factor marketing".

Contracted by the likes of News Ltd, the Nine Television Network, KFC and Westfield Shoppingtowns, John was kept busy devising marketing strategies to dramatically increase readers, audiences and customers.

After achieving spectacular results for such big guns, his reputation spread and it wasn't long before his client list included ACP Magazines, 7-Eleven, Coca Cola, Video Ezy, Caltex and McDonalds.

His "wow factor" thinking had achieved some remarkable "runs on the board" and everyone wanted a taste of it.

Having created marketing concepts that had achieved hundreds of millions of dollars in sales for his clients, John then decided that he'd like to produce his own products so that he could enjoy a direct benefit from his "wow factor" marketing.

So he got into the Trading Card business, whilst still owning the marketing agency. (Which by this time had 25 staff.)

He gained licenses for popular sports and movies and quickly used his marketing prowess to take trading cards to a whole new level of importance with the target audience of teenage males.

By providing News Ltd Sunday newspapers with millions of free trading cards for weekend giveaways, John was successful in catapulting his cards from a young boy's hobby to front page news.

In his first year, such promotional alliances helped John to increase sales of the NRL Rugby League cards from $2 million to $12 million - an incredible result!

(Particularly when you consider that Rugby League is only played in Australia in 2 States.)

After stitching up licensing deals with major players such as Disney, DreamWorks, Warner Bros and Fox, John produced many trading card themes, from Jurassic Park to Aladdin and Lion King - all launched with the News Ltd promotional "wow" of free samples.
JD's sales of these licensed products broke record after record, with Warner Bros in New York awarding him with accolades when his Batman movie trading cards sold 4 times the USA volume in Australia on a per capita basis! (i.e. Australian sales were 4 times the US sales!)

TV SHOW - DREAMS CAN COME TRUE
He then produced a series of television shows for the Australian TEN Network, one of them being, Dreams Can Come True.
In typical "JD style", he "wowed" audiences with wonderful stories of dreams coming true for needy people.
And stars like Michael Jordan, Paul Hogan (Crocodile Dundee!), Princess Di and Meatloaf helped him make some of the incredible dreams become a reality.
The TV series was a ratings winner, with ratings even beating today's Masterchef Program!
JERRY SEINFELD TEAMS UP WITH JOHN!
One of his highest profile clients has been the Greater Building Society, for which John secured superstar, Jerry Seinfeld, to be spokesman.

This marketing coup is a classic example of John's "wow factor" thinking, where a relatively small Australian bank was promoted by one of the biggest stars on the planet!

And "the fit" was perfect, as the Greater had enjoyed a long reputation for being a little cheeky and always poking fun at the banks!
JOHN'S COUP HITS PRIMETIME NEWS ACROSS THE USA!
On the first day of the TV shoot in New York, news crews swept on the set, as a Seinfeld's return to the small screen was huge news!

The story aired as the third news item on the National US News that night.
TOP NEWS STORY ACROSS AUSTRALIA!
Here's proof of how JD's "system" can generate massive FREE publicity.

You'll see in this video montage of news clips, that JD's "wow formula" works just as well with gaining "publicity" as it does with building sales!

It's this "formula" which you can swipe from his Wow Central resources site when you become a member.
John launched The Institute Of Wow in 2009, as a result of recognising the opportunity to deliver his unique Wow Factor Marketing System to businesses of all sizes.

In the years leading up to 2009, John had delivered his Client Attraction campaigns to businesses across all types of industries and with these huge inventories of case studies under his belt, he felt it was time to provide his advice in "packaged programs" so that even smaller businesses could access his thinking.

There's simply no other place in the world where one can be exposed to such a wide variety of proven Client Attraction marketing ideas.

If you go to an advertising agency, more than likely you're going to need to be a bigger business.

And even if you do use an advertising agency, most of the time the mature owner or manager will flick-pass you to a junior in the office, therefore minimising the benefit of having the relationship in the first place.

John recognised this and decided when he created The Institute Of Wow, he would have various levels of programs, so that even the smallest of businesses could gain tremendous benefit from his personal "Wow Factor Mantra."

Bigger businesses that can afford to engage his Private Coaching Services can do so – but smaller businesses can still access his ingenuity by investing in a membership of Wow Central or via his Wow Manifesto and Client Attraction Phenomena online programs.

When you become part of JD's environment, you are immediately benefiting from being around a marketing expert who has 3 decades of experience across industries from A-Z.

Whether you're a nursery, baker, stationary supplier, manufacturer, restaurant, hotel, resort, shopping mall, health and beauty specialist, naturopath, builder, dentist, doctor or bookkeeper – you'll find an incredible benefit from becoming a member of Wow Central and investing in any of JD's other programs.

JD continues to give "Wow Marketing Presentations" in Australia and overseas – 90 minutes, full days and weekend seminars.

His presentations are rich with case studies and he shows his wizardry by inviting members of the audience to come on stage and enjoy the benefits of his "Hot Seat" critique.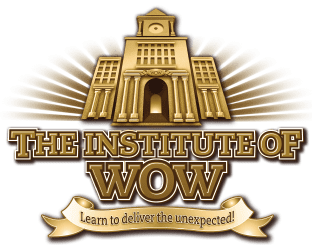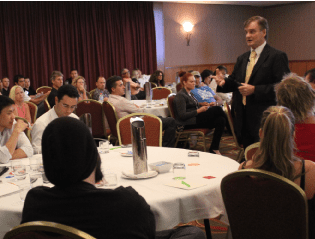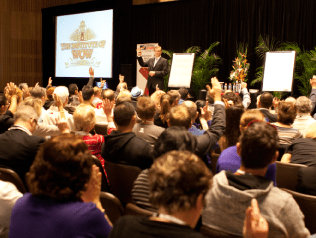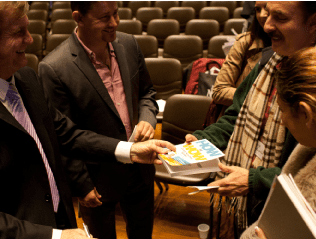 John is married to wife, Gael and they have 6 adult children.

John is your typical "guy" – loves watching the footy, enjoying barbeques with friends and trips to the cinema and restaurants.

He is in large demand for giving Wow Factor Marketing Presentations at company conferences and conventions and does these both in Australia and overseas.